I've been cutting back on spending and my back account is very happy. Since I'll be entering the real world soon, my parents have also cut back on support money, which I both like and dislike. Why can't we stay underage forever?! But I recently got a few things that I really did need.
eBay had a Coach factory sale a few weeks ago and my mom decided it was time for her to finally get a new purse for herself (first one she's gotten in ~5-7 years. (About time too. Her current Nine West bag is literally falling apart. She's been using a small binder clip to secure one of the ends of the handle to the bag… which I think is pretty clever but sad.) And since I actually don't have a single black bag, and the one I liked was $98, and for graduation, she paid for my bag too! Thanks, mom 😀
I ended up picking the Coach Kristin Leather East-West Crossbody (below) which is the perfect size for me–I typically only carry my wallet, cellphone, hand sanitizer and a bobby pin. I kind of wished the short handle was removable so it was a little less bulky, but it's a minor complaint. The leather is buttery soft and I want sheets that soft. It also has the perfect number of pockets (front flap pocket) and three pockets on the inside, one of them with a zipper.
Most recently, because of their 40%off sale items with free shipping on $50+, I finally got another pair of Madewell jeans. I got the Skinny Skinny Ankle Jeans in Canister Wash (here). I get ankle jeans because I'm short with a 28-29″ inseam so these are perfect "normal" length for me. The total ended up being around $55 for the pair so I decided to buy the "Spend $60, Get $100" Refinery29 Madewell Coupon (two days left before the deal ends). I figured I'd still have ~$45 to spend, which would mostly be "free." Unfortunately, I got a call that my size ran out and the order was going to be cancelled. However, I decided to call Madewell (and I hate talking to strangers on the phone but decided it was worth he anxiety) and see if they had any pairs in stores and sweet baby Jesus, they did. It would be a whole new order, but with the price I originally paid. But at the time of my call, my original order hadn't officially been cancelled yet, so the money hadn't been refunded to my giftcard. The sales associate was super nice, and said that this was a special case and she ended up placing the order, only charging me the remaining amount of my giftcard! So instead of paying $55, I ended up only paying $45 for my jeans! Bottom line, wonderful customer service and it totally made my week (I have a midterm coming up). YAY MADEWELL.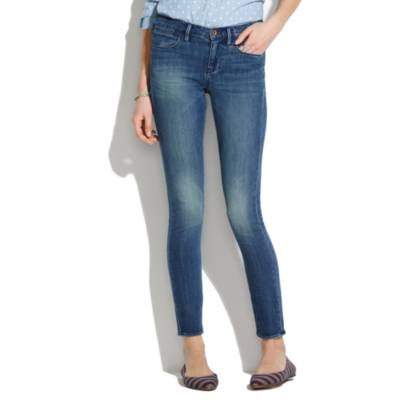 So yeah. Those are my recent crazy shopping adventures. Maybe I'll post real life pictures later. Also, first post!
-amy